S Houle Rock Buckets
Heavy Duty Rock Buckets Are Tough Enough for Any Job You Throw at Them

SHoule's heavy duty rock buckets make light work of any rocks, logs or other debris that needs removing. With a large range of bucket sizes to suit every tractor from a skid steer to an industrial loader, we have the perfect rock bucket to suit your needs.
SHoule rock buckets industry leading and unmatched strength, flexibility, durability and capability to tackle any job make them the perfect partner for the man on the land, industrial arena or construction site. What ever you need moved, you can trust a SHoule heavy duty rock bucket to get the job done, first time
Ideal For
Removal of rocks from paddocks
Clearing of logs and felled trees
Cleaning waste from job sites
Digging to unearth rocks and debris
Designed to Match Your Requirements
Suit tractors from 30hp to 200hp
Bucket sizes from 5' to 9'
Tynes made from spring steel for strength
Quick attach brackets to suit all types of tractors
Optional grapple attachment
Forged steel tips for high level resistance 
Which SHoule Heavy Duty Rock Bucket Do You Need?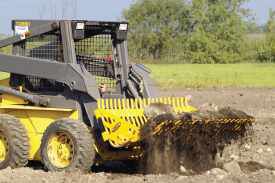 BB Series - Skid Steer

The BB Series are suitable for tractors ranging from 30 to 60 HP or for small skid steer loaders. Ideal for confined spaces and job sites where rocks and debris need to be removed. Small in size but capable of the toughest job you can throw at it, the BB Series won't let you down.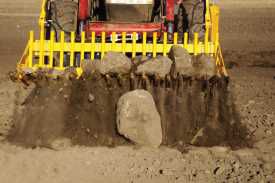 B Series - Up to 100 HP

The B Series rock buckets are suitable for tractors from 60 to 100 HP as well as skid steer loaders and backhoes. These buckets are designed to pick up rocks on the surface around the farm and can also be used for light digging.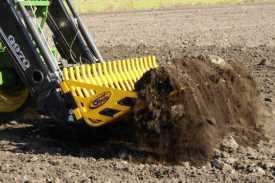 HB Series - Up to 200 HP

The HB Series is where rock removal starts to get serious. These buckets are suitable for tractors ranging from 85 to 200 HP. They will scoop rocks from the surface of the ground but can also dig up medium sized rocks buried under the surface.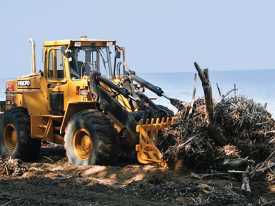 SHB Series - 200+ HP

The SHB Series are the big daddy in the range. Built for industrial loaders and can also be mounted on any large backhoe loader. Each tine is reinforced with a high strength steel plate for maximum durability. With the strength of this bucket you can dig up and move any kind of debris.
New Forged Tips That Are More Than Twice As Strong
You won't break one of our tips with this revolutionary new design.
Made of forged steel that are more than twice as strong with vertical and side loads as the industry standard
75% more resistant to wear for longer lifespan
Specially designed profile offers a stopper that allows for more volume capacity by keeping rocks from tumbling back
Strategically measured void in between tips to allow dirt to fall through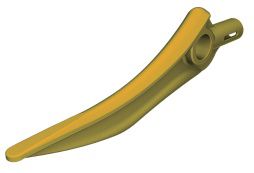 Specifications to Match The Correct Bucket With Your Tractor

Quick Attachment Brackets


Optional Grapple Attachment For Securing Larger Loads

The optional grapple attachment mounts on 7' - 9' Houle buckets and provide another layer of versatility. The aggressive appearance boasts a fantastic load capacity making it great for picking fallen tree limbs, logs and other debris.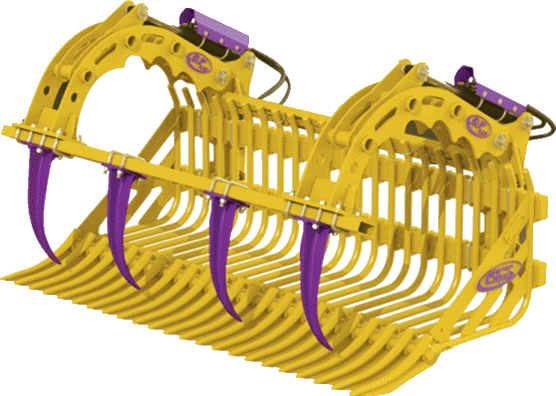 Watch The SHoule Rock Bucket In Action
Need something lighter duty?
CFB models for under 100 HP, light duty picking of surface rocks