S Houle Rock Rakes
The Easiest Way to Clear Your Land of Rocks and Other Unwanted Debris

When your paddock is riddled with rocks, tree roots or other debris, you need a SHoule rock rake to clean things up. Made from the highest-grade material to support greater shocks and loads in tough Australian conditions, and available in 10', 15', and 30' models, we guarantee there is a SHoule rock rake to suit your needs.
All rakes come standard with bolt on, reversible and replaceable teeth made of RT-400 steel which are 4 times stronger than market standards. They are driven by heavy duty double chains located in a sealed drive case for complete dust and rock protection.
Why Nothing Else Compares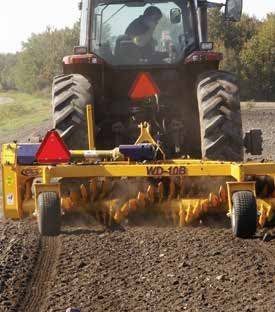 Fast & Efficient
Clever engineering sees SHoule rakes have an overlapping spiral pattern that smoothly rakes stones with no gaps, minimising skipped rocks being left behind. This saves you time bringing scattered stones into a neat windrow for collection with your bucket or picker.
You'll also spend less time maintaining your machine because of the ingenious bolt on teeth that don't need constant hard surfacing.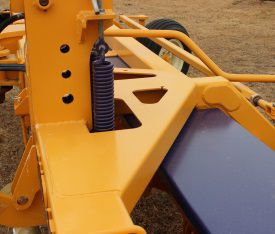 Built for a Hard Life

When doing a hard job, you need hard tools, and they don't come tougher than SHoule. SHoule rock rakes are built to take a pounding with a 6"x6" main frame, the strongest frames in the industry, and heavy-duty floatation system on the SWD-15. Let's face it, rock equipment never has easy days, so you want equipment that won't let you down.
Trailing models have 11L-15 tyres to handle the roughest terrain from outback Qld to the rugged high-country plains.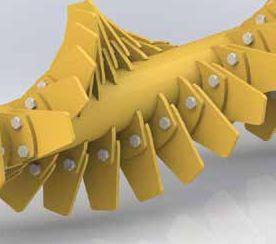 Reversible, Replaceable, High Strength Teeth
We have the toughest teeth on the planet. All teeth are made of RT-400 wear plate steel, commonly used in mining applications and 4 times stronger than standard steel. The entire tooth is made of abrasion resistant steel, rather than just a hard surface on top of soft steel which you'll find on inferior products.
The teeth can be reversed to effectively double the wear life and having bolt on teeth means less time on the ground trying to hard surface or gouge off weld from the drum.
The overlapping spiral pattern efficiently rakes stones with no gaps and windrows rocks 50mm and up.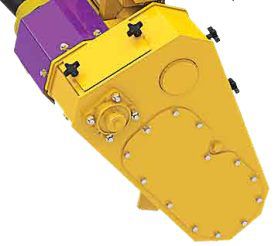 Sealed Chain Case

A sealed chain case protects from abrasive dust and extends the life of the internal components (chain, gears, bearings) while still providing easy access if required. This is a must if you want your equipment to last in the harsh Australian climate and not be dealing with replacements on a regular basis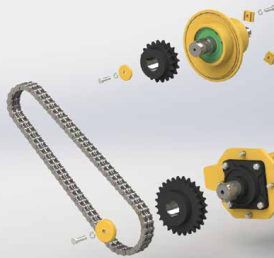 Dual Drive Chain

Protected inside the sealed chain case, you'll find the heavy-duty double chains which power the rotating drum for longer service life. It's this double strength that keeps your SHoule rock rake out on the land working and not stuck in the shed. 15' models use an eccentric tensioning system while the 10' rakes have a threaded tensioner.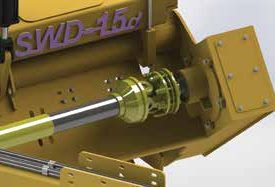 Mechanical Protection

A multiple disc slip clutch protects the drive train from sudden shocks and damage while rock shields and protective covers on the drive line prevent damage to the PTO.
15' models have a suspended drum to follow ground contours and absorbs shock from heavier rocks protecting your equipment.

Choose the Rock Rake to Match Your Requirements

 
WD-10B
WD-10H
PWD-10
SWD-15M
SWD-15H
DRR-30H
Drive
540
HYD
540
540
HYD
540
Weight
840 kg
953 kg
1134 kg
1940 kg
6125 kg
Hitch
3PL
3PL /
Skid Steer
Trailing
Trailing
(Hydraulic Fold)
Trailing
(Hydraulic Fold)
Rec. HP
65 - 125 HP
65 - 125 HP
65 - 125 HP
80+ HP
Working Width
8' 8" (2.7m)
8' 8" (2.7m)
13' 10" (4.2m)
27' (8.2m)
Transport Width
11' 3" (3.5m)
11' 3" (3.5m)
8' (2.43m)
10' 2" (3.1m)
Watch the SHoule Rock Rake in Action