SHoule Rock Rakes & Windrower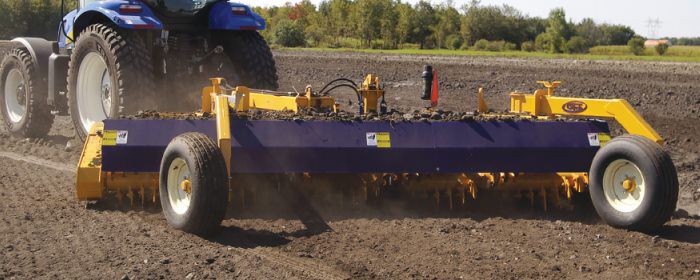 SHoule rock rakes are available in 10', 15', and 30' models, with fully enclosed chain case to stand up to dust. The teeth are made from RT-400 steel for extended wear life, and are reversible and replaceable. The 10' model is available in 3-point linkage or trailing model, and the 15' is trailing with either manual or hydraulic fold for transport. The 30' rake has a self-contained hydraulic system with pump driven by PTO.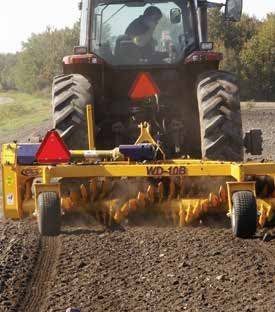 Fast & Efficient
Rock rakes bring scattered stones into a neat windrow for collection with buckets or pickers. Minimising skipped rocks is key to efficient use of time and resources, so SHoule rakes have an overlapping spiral pattern that smoothly rakes stone with no gaps.
Spend less time maintaining your machine with bolt on teeth that don't need constant hard surfacing, and travel speeds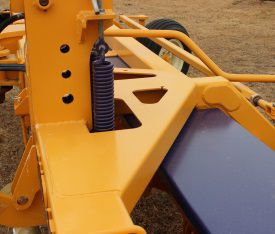 Built for a Hard Life

When doing a hard job you need hard tools, and rock equipment never have easy days. SHoule rock rakes are built to take a pounding with a 6"x6 main frame and heavy duty floatation system on the SWD-15.
Trailing models have 11L-15 tyres to handle the rough terrain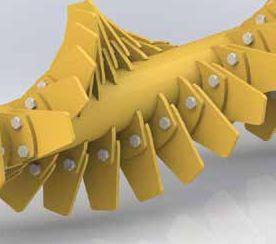 Reversible, Replaceable, High Strength Teeth
All teeth are made of RT-400 steel, commonly used in mining applications and 4 times stronger than standard steel. The entire tooth is made of abrasion resistant steel, rather than just a hard surface treatment on top of soft steel.
The teeth can be reversed to effectively double the wear life, and having bolt on teeth means less time on the ground trying to hard surface or gouge off weld from the drum.
The overlapping spiral pattern efficiently rakes stones with no gaps and rakes rocks 50mm and up.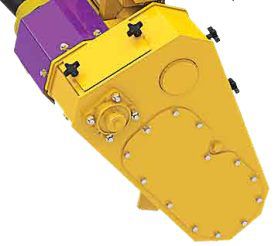 Sealed Chain Case

A sealed drive chain case protects from abrasive dust and extends the life of the internal components (chain, gears, bearings).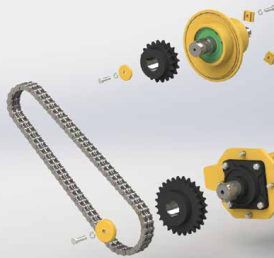 Dual Drive Chain

Heavy duty double chains power the rotating drum for longer service life. 15' models use an eccentric tensioning system while the 10' rakes have a threaded tensioner.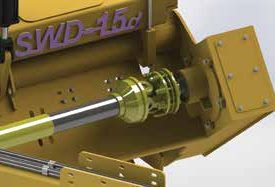 Mechanical Protection

A multiple disc slip clutch protects the drive train from sudden shocks and damage while rock shields and protective covers on the drive line prevent damage to the PTO.
15' models have a suspended drum to follow ground contours and absorbs shock from heavier rocks
Specifications
 
WD-10B
PWD-10
SRR-15
SWD-15
DRR-30H
Hitch
3 Point
Trailing
Trailing
(Manual Fold)
Trailing
(Hydraulic Fold)
Trailing
(Hydraulic Fold)
PTO
540
540
540
540
540
Rec. HP
65 - 125 HP
65 - 125 HP
65 - 125 HP
65 - 125 HP
80+ HP
Working
Width
8' 8"
(2.7m)
8' 8"
(2.7m)
13'
(4.0m)
13' 10"
(4.2m)
27'
(8.2m)
Transport
Width
11' 3"
(3.5m)
11' 3"
(3.5m)
8'
(2.43m)
8'
(2.43m)
10' 2"
(3.1m)
Weight
840 kg
1134 kg
1940 kg
2040 kg
6125 kg