Single Phase

Plug in to standard mains outlets, no expensive generator required.

No Screens

Easy adjustment between crops and no expensive screens to buy or wear out.

Higher Return

Upgrade grain for a higher price or clean seed to only use the best seeds.

Clean Damaged Seed

Excellent at removing insect damage, weevils, and ergot as well as frosted and crimped grains.

Right Size

Available in multiple sizes for cleaning grain to sow up to high harvest capacity.

Ready When You Need It

Clean when it suits you - no more waiting & wondering if the custom cleaner will show.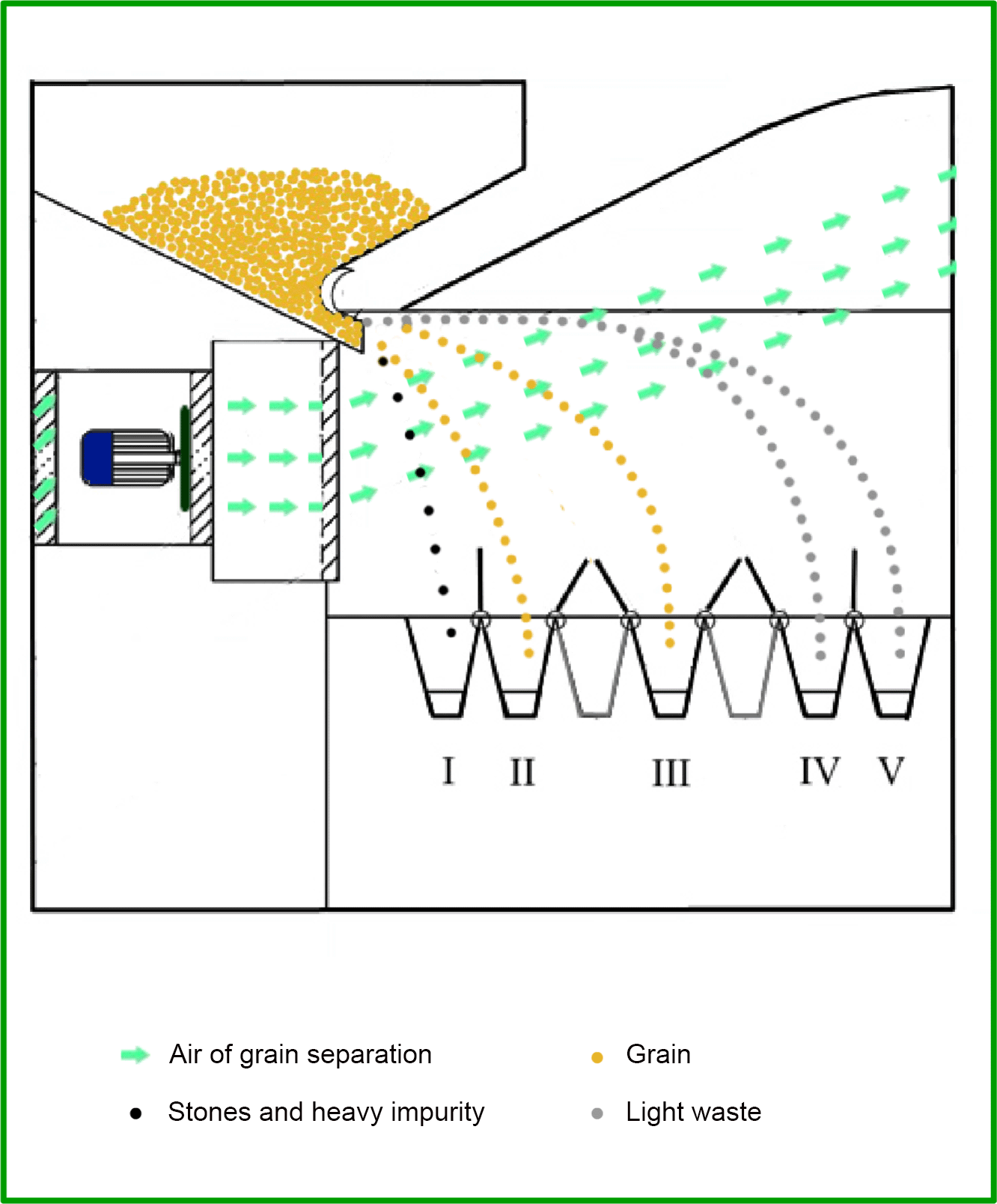 Advantages of the GCS Cleaner

You decide WHAT you need to do to your grain - clean it, grade it or both.

You decide WHERE you need the job done - a fixed location or remotely on the trailer.

You decide WHEN you need the job done - in the paddock, at the silo, or pre-sale.
No More:

Can you do it this way?


I have to bring it where?


When can I get it done?
All our Equipment is:
Farmer Friendly - easy to use, no screens, all grain types and mechanically simple

Grain Friendly - no mechanical contact with the grain (no damage)


Checkbook Friendly - lower initial cost, lower operating cost and lower maintenance cost




















"Saved us a lot of money already…"
"We purchased the 60t/hr GCS Grain Cleaner to grade mice droppings out of the sorghum. We were getting loads rejected so we made a quick decision to grab the last grain cleaner available at Beulah Machinery at the time.
"It has been awesome. We haven't had any loads rejected since and it's as simple as to use. We were amazed at how much rubbish it removes.
"It's saved us a lot of money already. We would have had to pay up to $28/t to get it graded. Overall, we will probably grade up to 1000t this season so it's around a $28,000 saving straight up.
"We've also recently put it to work grading dirt out of the wheat. We plan to use it for the wheat, barley, chickpeas and grass seeds into the future. Ideally, we'd like to set it up so we grade everything we put into storage.
"Originally, we were looking at a smaller cleaner, but we are glad we got the larger one in the end. It just gives us a lot more capacity."

"Paid for itself already…"
"We purchased the cleaner to clean our own oat seed. We only had a small lot to do, and we couldn't get anyone to come and do it at the time. Around January/February when we need it done, the contractors are all out west doing the big jobs and it's always a problem getting anyone.
"Our choice was to buy in new seed or get a cleaner and do it ourselves. As far as I'm concerned, the cleaner has paid for itself already. If we'd bought more seed and our own was still sitting in the shed, the mice would have eaten it all anyway.
"The GCS Cleaner is simple and works well. It looks like we have 100 percent germination in the oats now - so it's done a good job!"

"Unbelievably happy with the seed we've done…" 
"We've always tried to clean our own seed. We bought the 20t/h GCS Grain Cleaner to compliment another cleaner without a fan. We cleaned the wheat, barley, and lentil seed. It did an excellent job especially getting all the light stuff out.
"You try to keep your seed as clean as you can. We've been unbelievably happy with the seed we've done. It's better than some of the new bagged seed you get. With how we have it all set up, I don't think we could find anything we can't clean. We've already had a few neighbours coming over to check out our system."

 "Having the cleaner is ideal…"
"Be bought the 10t/hr GCS Grain Cleaner in early 2021 to clean our own grain for sowing and generally value add to the grain when you need to. We store our grain in three sheds and we sell what we don't use ourselves.
"Having the cleaner is ideal. When we need more for sowing, we just go and grab some. We often have a terrible time with blockages when we're sowing, but we've had none since using the new cleaner."

"A good option to be more self-sufficient…"   
"I purchased a 5t/hr GCS Grain Cleaner at the end of 2020. The price of cleaning and the price of seed the last few years has been out of control. It's also hard to get anyone to come and clean. I've been really happy with how it's gone. It's simple to use and it did a really good job on the grazing wheat. It's a good option to be more self-sufficient."

"It's actually paying itself off…" 
"I got let down a few times with graders so decided things would need to be changed. This is our second year with the GCS Grain Cleaner. I would say it's actually paying itself off.
"It's simple to use and has done a good job on small seeds right through to the lupins. We've also seen a great result with the lucerne seed – bigger, heavier seeds in the sample and it looks healthy when it comes up. It was also excellent for reducing the black oat seed in the wheat last year."

 "Convenient…we can do it ourselves in the down time…"
"We purchased the GCS Grain Cleaner originally to grade the faba beans. We'd used our neighbours one the year before and it worked quite well so we decided to get ourselves one.
"The mobile grader wasn't particularly good on the beans. The less you auger them around, the better the germination so we just grade them straight out of the silo.
"It does just as good a job as the mobile contractors, but it's more convenient because we can do it ourselves in the down time. You don't have to do much really. You just have to be there.
"We also did all the wheat and barley seed with it. It takes a bit of time, but it's worth it. We wanted to grade the pods out of the vetch and that worked well too. It all went through the airseeder well without any problems."

"Saved us a lot of worry…"
"We purchased the GCS Grain Cleaner late in 2020. We couldn't get wheat graders when we wanted them so having our own cleaner saved us a lot of worry. It was great knowing you can do the job yourself when you need it done and if we needed a bit more seed we could just go and grade it without any hassles."

"It did an excellent job…"
"We bought the scalper to tidy up the sample in our grading shed. It's been good to get out any of the big particles like the stalks or rocks. We've also graded some mice droppings out of canola, and it did an excellent job of that too."

 "Saved us a heap of time…"
"We knew we were going to have to grade the oat seed this year. It had 3inch straw through it and it was going to make sowing difficult. Finding people to do the grading is hard out here so we decided to get our own cleaner.
"We ended up putting both the oats and barley though the grader and it did a really good job. We didn't have any block ups on the sowing rig. It was plenty good enough to go through and saved us a heap of time.
"The 5t/hr cleaner was more than good enough to get the job done. Down the track we might look to upgrading to the 10t/hr model."

Barley Cleaning Demo

15t seed cleaner machine mounted on a trailer with pencil augers.

Paired with the GCS Air Grain Cleaner, the Scalper can reduce sticks, pods, and other oversize material before the cleaning process to deliver results of the highest quality
| | | | | | | | |
| --- | --- | --- | --- | --- | --- | --- | --- |
| Model | Capacity (t/hr) | Power (kW) | Length (m) | Length w/Hood | Width (m) | Height (m) | Weight (kg) |
| GCS-200 | 5 | 0.5 | 2.06 | 2.90 | 0.49 | 2.30 | 180 |
| GCS-450 | 15 | 1.0 | 2.40 | 3.30 | 0.76 | 2.40 | 370 |
| GCS-1000 | 25 | 2.2 | 2.40 | 3.30 | 1.30 | 2.40 | 820 |
| GCS-2200 | 60 | 3.3 | 2.42 | 3.30 | 1.83 | 2.75 | 1140 |