Secondhand Flexi-Coil Air Seeders

Remanufactured Units, OEM & Aftermarket Parts

Beulah Machinery has been importing and refurbishing used Flexi-Coil air seeders for sale from the Canadian market for over 15 years. We find those machines to be in much better condition than typical Australian secondhand air seeders as they do about half the acres and much easier acres. In order to reman and service our customers we also stock a full range of replacement parts, on hand to keep you sowing. Air seeders have been supplied in NSW, QLD, VIC, and SA.

All air carts and bars have been checked, reconditioned, and can be set up to your specification.
New wheel bearings
Bushes, pins, checked and replaced
Tyres checked and replaced
Shank bushes checked
Meter systems cleaned and rebuilt
Stainless steel meter boxes and pipes upgrade option
New hydraulic hoses
Delivered from "bare bar" to "sow ready"
Used and remanufactured Flexi-Coil air seeder boxes from Beulah Machinery are a reliable and economical option for metering seed and fertiliser. John Deere 787 air carts are just Flexi-Coils painted green.

Mechanical or Variable Rate Drive. Seed and fertilser rates are set with a slide adjustment on mechanical drive models, or through the controller in the cab for variable rate. Both are calibrated with a bulk density scale to accurately set rates. Most customers will opt for mechanical drive - it is simple, easy to understand, and easy to operate.

Tow Behind or Tow Between Frame. Flexicoil air carts can be setup either between the tractor and tillage implement or behind. Tow between tends to "crab" the bar less on sidehill country while a tow behind allows better view of the bar. Tow behind units come with a standard Flexi-Coil A-frame hitch.

Small Seeds Sowing. Canola, pasture, and other small seeds can be sown from main box with a roller change or the air cart can be fitted with a small seeds box if desired. The most common fitted boxes are a PJ Green that bolts to the side of the tank or the Flexi-Coil 320 which mounts to the front frame.
Every remanufactured Flexi-Coil air cart from Beulah Machiney comes standard with the following:
Monitor and controller
Load/Unload auger
2 meter rollers
Bulk density scale & catch bag
Manual
Available upgrades include:
Stainless Steel Manifold Pipes
Small Seeds Box / Flexi-Coil 320 3rd bin (840L)
| Model | 1330 | 1720/1740 | 2320/2340 |
| --- | --- | --- | --- |
| Capacity | 130 bu (4580L) | 170 bu (5990L) | 230 bu (8100L) |
| Tanks | 2 bin | 2 bin | 2 bin |
| Drive | Mechanical | Mech. / VRT | Mech. / VRT |
| Max Primaries | 6 run double shoot | 8 run double shoot | 8 run double shoot |
| Frame | TBT/TBH | TBT/TBH | TBT/TBH |
| Auger | 7" Hydraulic | 7" Hydraulic | 7" Hydraulic |
| Transport Width | 3.45m | 3.65m | 3.65m |
| Rear Wheel Centres | 3.05m | 3.05m | 3.05m |
The Flexi-Coil 820 tillage bar and its variants (ST820, New Holland ST830, Case IH PTX600) have built a reputation for reliability and sowing accuracy around the world. Each frame section is split into 2 or more triangle which flex and follow the ground contours over depressions and contour banks.
Frame Widths. Flexi-Coil 820 cultivator bars come in a number of popular working widths and configurations from a single-fold 25' model up to a double fold 62' wide.
Shank Breakouts. Heavier spring breakouts help to keep shanks engaged in hard ground and dry conditions but also will tend to bring rocks to the surface. 350lb, 550lb, and 650lb trips are available on 9" and 12" spacing.
Quality Built. Flexi-Coil 820 frames are received from Canada completely disassembled. This makes it easy to check and replace all pins and bushes when putting the machine back together.
New Wheel Bearings. All wheel bearings are replaced on reman bars - we take pride in delivering a quality product and the cost is negligible compared to any down time.
Air Kit. Setup your machine to run either single shoot or double shoot placement for seed and fertiliser separation. Choose from OEM risers and heads or new stainless steel aftermarket distributors.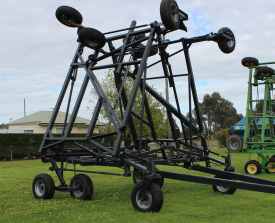 Frame Size
Flexi-Coil 820 bars come in frame sizes from 25' to 62' (7.6m to 18.9m) depending on row spacing, trip breakout, and tyne layout.

Frames are either narrow (5.7m transport) or wide centre (6.6m transport), and single or dual fold.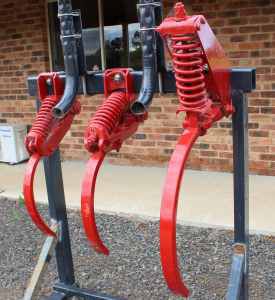 Trip Breakout
Choose your spring tine trip force from 350lb, 550lb, or 650lb.
Flexi-Coil frames can be setup on 7.2", 9", or 12" spacing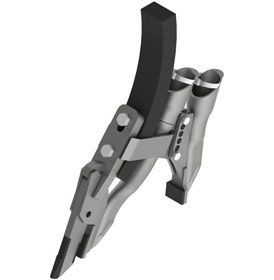 Points and Boots
Options available include:
| Model | 25-29' | 31-35' | 37-41' | 52-56' | 58-62' |
| --- | --- | --- | --- | --- | --- |
| Centre Section | Narrow | Narrow | Narrow | Wide | Wide |
| Frames | 3 (Single Fold) | 3 (Single Fold) | 3 (Single Fold) | 5 (Double Fold) | 5 (Double Fold) |
| Transport Width | 5.7m | 5.7m | 5.7m | 6.6m | 6.6m |
| Transport Height | 3.5m | 4.3m | 5.7m | 5.1m | 5.1m |
| # Shanks (12") | 27, 29 | 33, 35 | 39, 41 | 54, 56 | 60, 62 |
| # Shanks (9") | 35, 37, 39 | 43, 45, 47 | 51, 53, 55 | 71, 73, 75 | 79, 81, 83 |