New Highline NT Rock Pickers Set the Industry Standard

For over 20 years, farms all around the world have relied on the tough Highline rock pickers to remove unwanted rocks from their paddocks because of their superior strength, durability, efficiency, and capability to get even the toughest job done.
Beulah Machinery is proud to offer the all new Highline NT Series rock pickers for sale which have a number of improvements over the previous XL model.
These include:
A redesigned full swing hitch enabling the picker to be positioned in full view of the operator, or aligned directly behind the tractor out of the way and no hassle when driving on a public road

An improved spring tension mechanism that removes the need for a special tool for ease of operation. It's compact mounting ensures it is protected from rock damage to give you years of trouble-free service. 
While maintaining all the industry leading features you've come to expect as standard from a Highline rock picker such as:
Extra strong perimeter frame to tackle anything you throw at it and complete the job with ease

Sweeping action on the reel to leave dirt in the paddock and not in the bucket

Heavy duty bolt-on apron tynes for easier maintenance longer life

High dump heights up to 2.1 metres for ease of loading trucks and trailers

High capacity bucket so you can fit more in

Guided raking reel makes picking more efficient than typical rock pickers

Hydraulically driven making it smoother and easier to operate than a PTO drive

Contact us today with your requirements and we'll provide you with the ideal solution at an affordable price.
Industry Leading Features That Come as Standard on Every Model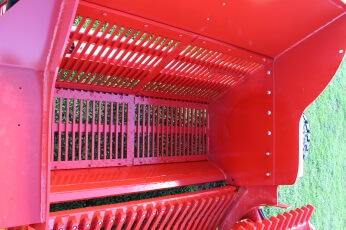 High Capacity Bucket

Fit more in because Highline rock pickers have the best in class sized buckets. This saves you wasting time constantly emptying small loads and increases your efficiency.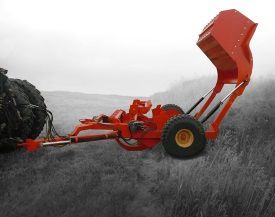 2.1m High Load Dumping

No manual handling rocks when you load the truck or trailer with Highline's impressive 2.1m height capability. They also dump farther back than other makes, allowing rock piles to be made higher and tigher, and trucks and trailers can be loaded closer to the centre.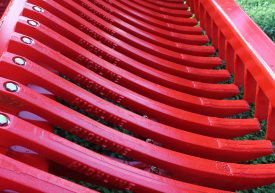 Heavy Duty Bolt On Apron Tynes

The apron tynes are hard surfaced and formed in a special wedge to prevent stubborn jammed rocks. They can be unbolted for easier hard facing, replacement, or rotating the outer tynes inward for more even wear. Reel teeth are also hard faced for extended wear life.
Highline rock pickers tyne's special profile results in a narrow opening at the top and wider at the bottom. Rock jams are cleared faster and easier than with round or square bars found in other makes. This saves you time clearing rocks off your property so you can get more done.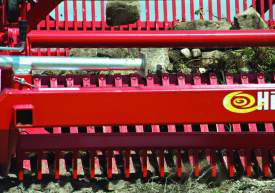 Leave Dirt in the Paddock   

Highline pickers are made to pick rocks and leave soil in the paddock where it belongs. The guided reel lifts rock up the apron to sweep rocks away while allowing dirt to drop back to the ground. Open grate design in the bucket allows any dirt collected to drop through to the ground.
The new NT series rock pickers push less dirt than conventional pickers because the guided reel collects and lifts the rocks instead of depending on the apron to push and collect them. The end result is you remove the rocks without losing the soil.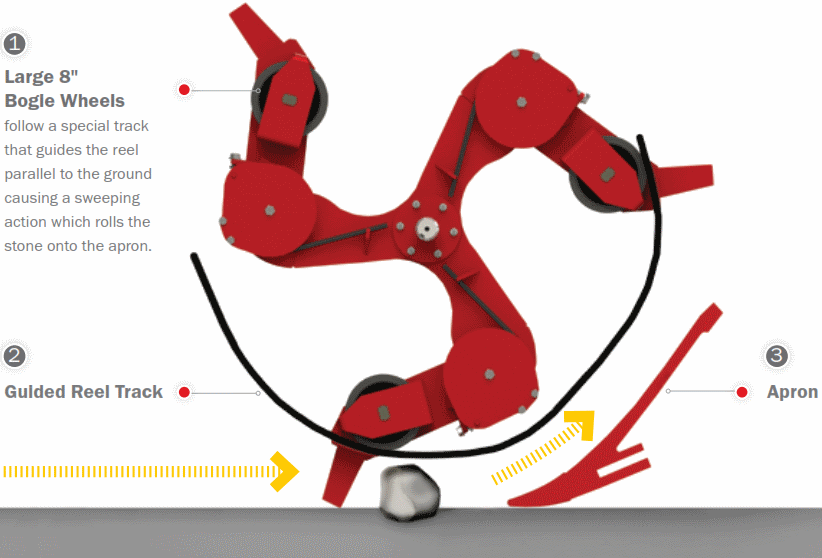 Raking Reel

A guided reel makes picking more efficient than typical rock pickers. Large, 8" diameter bogie wheels follow a special track which guide the reel arms parallel to the ground, giving over 30cm of positive raking action in front of the apron. Rocks from 50 mm to 600 mm can't escape and are lifted cleanly into the basket for removal.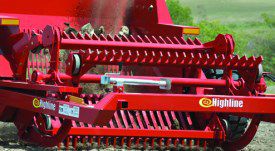 Tough Perimeter Frame

The rectangular frame is designed to work in challenging conditions and provide a solid foundation for years of trouble-free operation. The frame across the front of the rock picker is positioned high enough to give plenty of clearance for larger rocks while improving structural strength and longevity for your piece of mind.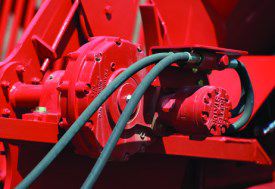 Hydraulically Driven

Highline rock pickers use a hydraulic motor to drive the reel, allowing tighter turns and is less jarring than PTO drive.
The industry exclusive heavy-duty gearbox eliminates the worry of chains breaking or wearing out, and the reel is easily reversed from the cab to clear jams. Standard tractor hydraulics control every function of the picker without requiring an electronic control box for ease of use.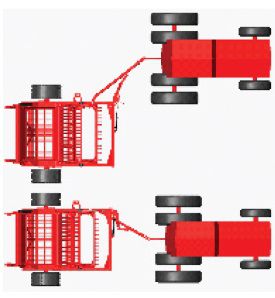 Full Swing Locking Hitch

The new Highline NT hitch moves the rock picker fully into view of the operator and out of the way behind the tractor - even with duals. Having the picker tuck to true centre behind the tractor makes road transport a whole lot less stressful and safer for other road uses. Standard hydraulics and self-locking design make going from paddock to road quick and easy.
 
Choose the Rock Picker to Match Your Requirements

Specifications

| | | |
| --- | --- | --- |
| | Highline NT60 | Highline NT78 |
| Working Width: | 60" (1.5m) | 78" (2.0m) |
| Dump Height: | 84" (2.1m) | 84" (2.1m) |
| Bucket Capacity: | 2.57 cu yd (2.0 m3) | 3.35 cu yd (2.6 m3) |
| Tyre Size: | 16.5L-16.1 | 21.5L-16.1 |
| Weight: | 3000 kg | 3400 kg |
| Transport Width: | 3.2m | 3.65m |
| Hydraulic Req'd: | 16 GPM | 16 GPM |
| Recommended HP: | 70 - 135 HP | 90 - 150 HP |
Watch the Highline Rock Picker in Action