Farm King Conventional Grain Augers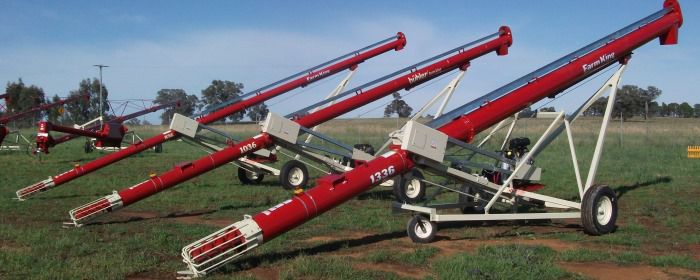 Farm King conventional augers have proved their durability, reliability, and value for decades around the world. Beulah Machinery has been supplying Farm King products for nearly 20 years and have built a reputation for outstanding service and performance.
All Farm King conventional augers sold by Beulah Machinery include the following items as standard - no hidden extras:
Kohler motor with electric start
Reversing gearbox
25L Fuel tank
Battery
Poly drop chute
Poly hopper
WorkCover compliance including fully enclosed belt guards and safety switch

Options:
3rd Wheel Manual Mover
Fully Hydraulic Mover, including:

Hydraulic Winch
2 wheel drive (on main 15" wheels)
Steerable axle for maneuverability
Rams on intake end for easier placement of auger into silos or on back of ute -- turns a two man job into a safe one man job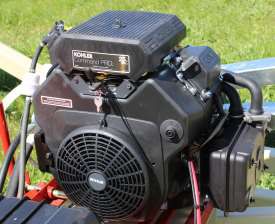 Kohler Motor

A new Kohler motor is included with every Farm King conventional auger. Having the motor mounted low in the frame rather than suspended under the intake end allows for better access while unloading silos. Farm King augers have a simple in-and-out of gear system for engaging the motor drive. Please note that Kohler has revised horsepower ratings for emissions reasons this year (Eg. 25 HP -> 23.5 HP)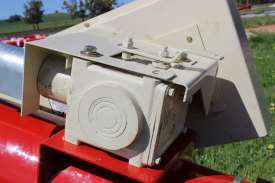 Reversing Gearbox

Standard on every Farm King auger, the reversing gearbox is used for cleaning out the auger or clearing a jam. A neutral setting is used when transporting with the hydraulic mover kit without turning the flighting.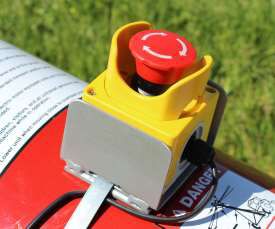 Full WorkCover Compliance

Safety features include emergency stop switches located near the auger intake, fully enclosed belt guards that are still easy to remove, and compliant intake hopper guarding.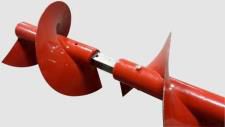 Square Flighting Couplers

Square flighting connectors prevent undue stress on connection bolts. Unlike augers with round connectors, the Farm King conventional auger can continue to drive if a bolt breaks.
Standard Inclusions

All conventional augers come standard with hopper, drop chute, fuel tank, and battery box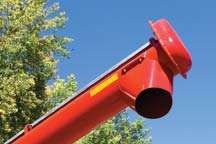 Top Drive

The top drive is housed in a sealed oil bath and features a chain-tightener. The components in the sealed oil bath are resistant to heat, dust, debris and moisture, reducing maintenance and enhancing the longevity of the chain and sprockets.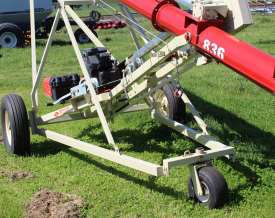 3rd Wheel Manual Mover (Optional)
An optional jockey wheel allows for easier positioning of the smaller augers.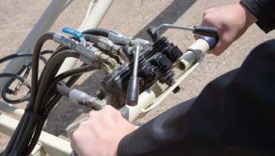 Hydraulic Mover (Optional)
The optional Farm King Hydraulic Mover Kit has a wide stance undercarriage for stability and is highly recommended for larger augers. The auger mover features two durable hydraulic motors that drive the main wheels, controlled by a user-friendly T-bar control.
Available Models

| | | | | | | |
| --- | --- | --- | --- | --- | --- | --- |
| MODEL | TUBE WIDTH | TUBE LENGTH | MOTOR | VERTICAL REACH | FORWARD REACH | CAPACITY |
| 836 | 8" | 36' | 23.5 HP | 18' 1" (5.51m) | 14' 10" (4.52m) | 70 t/hr |
| 841 | 8" | 41' | 23.5 HP | 28' 3" (8.61m) | 13' 6" (4.11m) | 70 t/hr |
| 851 | 8" | 51' | 23.5 HP | 35' 2" (10.72m) | 15' 8" (4.78m) | 70 t/hr |
| 1036 | 10" | 36' | 23.5 HP | 16' 8" (5.08m) | 13' 3" (4.04m) | 120 t/hr |
| 1041 | 10" | 41' | 23.5 HP | 28' 3" (8.61m) | 13' 11" (4.24m) | 120 t/hr |
| 1051 | 10" | 51' | 32.5 HP | 35' 2" (10.72m) | 16' 10" (5.13m) | 120 t/hr |
| 1061 | 10" | 61' | 35 HP | 42' 0" (12.8m) | 21' 5" (6.53m) | 120 t/hr |
| 1336 | 13" | 36' | 35 HP | 19' 1" (5.82m) | 13' 2" (4.01m) | 240 t/hr |